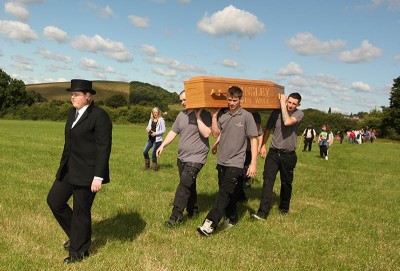 The organisers of an annual Nottinghamshire coffin walk will stop to raise a toast to the families who used to trek three miles across the countryside to bury their loved ones 150 years ago.
The walk, which takes place on Saturday, July 20th, will recreate the three-mile journey undertaken by residents living in Brinsley, who had to take their deceased to nearby Greasley because their village did not have a church.
It will be the 14th time that the commemorative event has taken place after it was reintroduced by local historian Stan Smith, who wanted to bring the days gone by back to life for the current residents of Brinsley.
Sadly, Stan Smith died 3 years ago but the tradition has been maintained by local parishioners aided by Kirkby-in-Ashfield coffin manufacturer Steve Soult Limited and Eastwood-based Gillott's Funeral Directors, who give up their time every year to manufacture and carry the coffin and lead the procession.
The walk takes about two hours to reach its destination, St Mary's Church in Greasley, and passes the headstocks at Brinsley Colliery, where participants stop to pay homage to the local miners of days gone by.
This time, the walkers will also stop at the former site of a so-called coffin stone halfway along the route, where mourners would stop to rest the coffin and enjoy some refreshment in the shape of a beer or two before continuing their journey.
On Saturday, the walkers will substitute the beer for sparkling mineral water and raise a toast to those whose footsteps they are following some 150 years later.
Joanne Hutsby, a partner in Gillotts Funeral Directors, said: "Although the coffin walks were understandably sombre at the outset, according to local reports some of the funeral parties were quite merry by the time they arrived at Greasley because of the beer they'd drunk to refresh themselves on the way.
"It demonstrates that in some cases funerals 150 years ago weren't that much different to many of today's services, which can sometimes be upbeat because people are determined to reflect the sense of fun of the person who has died as well as reflect on their passing.
"Although we recognise that we are recreating a sad day for the families of old, we thought that it would be fitting to reflect this communal atmosphere in our coffin walk, which is why we have introduced the stop and the toast this year."