Thank you for visiting our website. We hope that you will find it helpful. Please accept our condolences if you are visiting here because you have lost a loved one or are beginning to plan because someone is unwell.
Since March 2020, we have been using this homepage to post updates on the current circumstances, to ensure that they are easy to find and up to date. You can access our online brochure below, which not only contains details of our funeral home services but also information about local crematoria and cemeteries. You can also find a guide to registering a death and other documents which may prove helpful to you. More detailed information is available throughout the rest of our website.
Contacting & Visiting Our Funeral Homes
As we reach the end of official Covid-19 restrictions, our aim is to return to working practices which are as normal as possible. However, we all need to remain cautious and act responsibly as a mark of respect for each other.
For the last two years we have been asking those who are visiting our premises for all but a very short time to make an appointment or call ahead when visiting us, and we continue to request this. This ensures that there will be a member of staff available to assist you – ideally the funeral arranger or funeral director you are dealing with,  and also allows us to manage footfall and the use of family spaces within our premises. If you wish to come and see us, please contact us to make an appointment.
Our Brochures
From 16th September 2021, the government has required all funeral directors to provide two funerals, the Attended and Unattended Funerals, in a set format within a document called the Standardised Price List. You can download our version of this document below. If these two funerals do not fit your needs, our Bespoke Funeral brochure is available which covers all other options.
Bespoke Funeral Brochure and Price List
View our Disclosure of Interests document for more information about Gillotts Funeral Directors.
Our Online Brochure
Our online brochure which details our funeral packages, vehicles, coffins, funeral flowers, urns and keepsake ranges is available by clicking on the image below.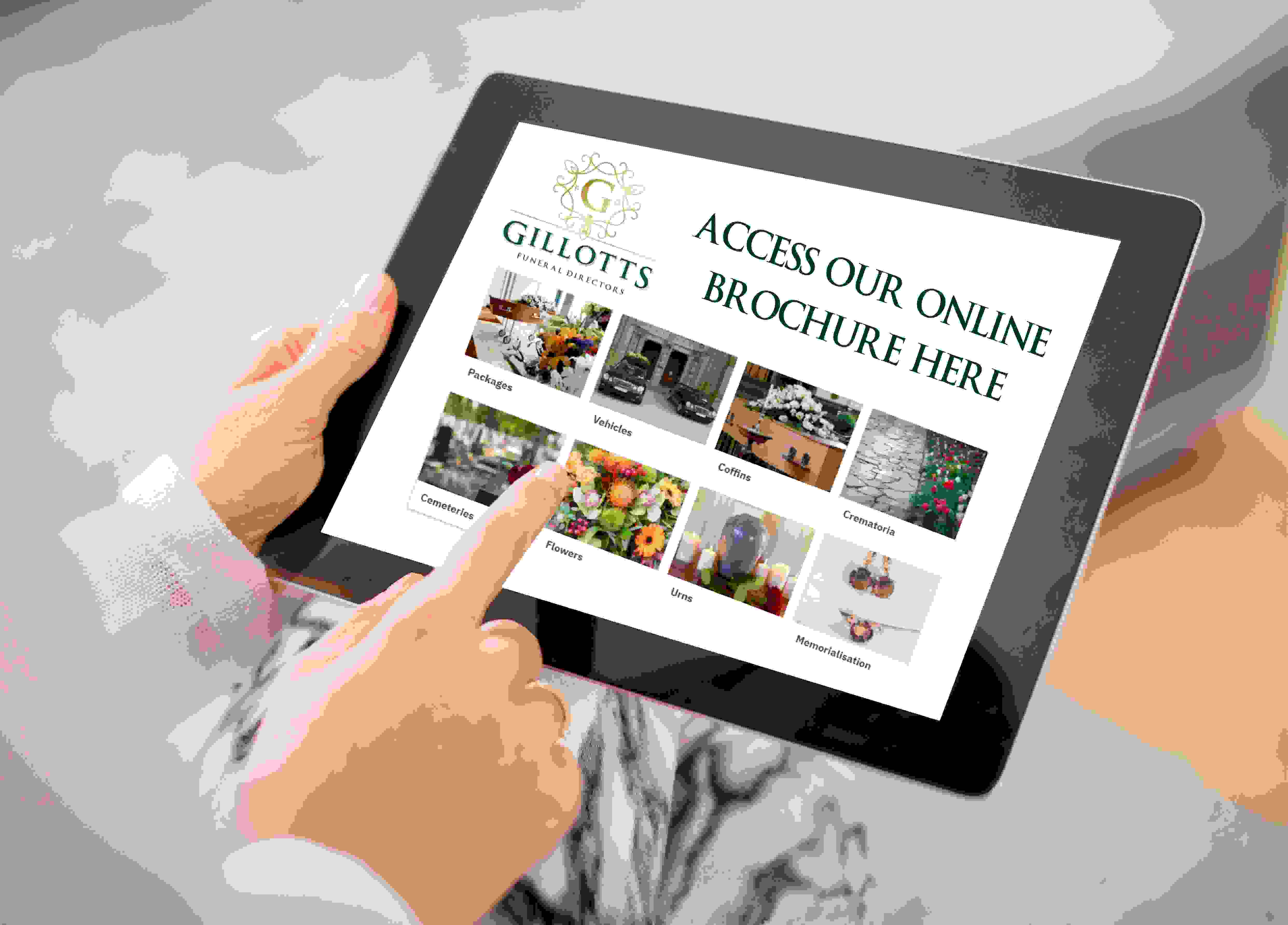 Funeral Finance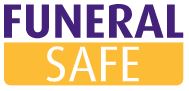 We appreciate that there are times when funds are not immediately available for the cost of a funeral, or for the kind of funeral that you would like. We work in conjunction with Funeralsafe who can help families to spread the cost of all or part of the funeral. Access the borrowing calculator to see more about how the process works, and apply for finance. You can apply either before or after your meeting with us.
Registering a Death
For the last two years, registration of all deaths has taken place by telephone. We have now returned to face-to-face appointments for the registration of a death. Our Registration Advice leaflet is available by clicking here. However, if you are unsure of the procedures please do not hesitate to contact us for advice.
Funeral flowers
Our floristry service is available to provide floral tributes for the funerals we are conducting or you may wish to contact your local florist to arrange flowers on your behalf. If so, we recommend that you telephone first, as they may be open by appointment only or within restricted hours. Download our Funeral flowers brochure, or view the options on our online brochure using the link above.
Order of Service Sheets
Order of Service sheets provides a touching memento for both the immediate family who are able to attend the funeral service and for those who would have been there under normal circumstances. We have reduced our costs when only a small number are required. You can download our brochure and our Order Form to submit your requirements.
Funeral Plans
Planning ahead for your funeral is one of the most thoughtful and caring things you can do. Learn more about our pre-paid funeral plans here.
Gillotts Funeral Directors have been arranging funerals for families across Nottinghamshire and Derbyshire for generations.
We serve a wide area from five funeral homes in Eastwood, Kimberley, Heanor, Stapleford and Selston.
People may be more familiar with our former names; Eastwood and District Funeral Service, Kimberley Funeral Service and Gillotts Funeral Service. In November 2015, we united our funeral homes under a single name; Gillotts Funeral Directors, to reflect our identity as a family-owned funeral home business. The business continues to be owned and managed by The Eastwood Funeral Partnership; Barry and Elaine Hutsby, Joanne Hutsby and Anthony Topley.
We can be contacted 24 hours a day when someone dies and our highly experienced team of funeral directors and arrangers are on hand to help with every aspect of managing the practical arrangements.
When Someone Dies
Funeral Choices
Our Funeral Services
Funeral Planning
Funeral Announcements
About us
Contact us