Thank you for visiting our website. We hope that you will find it helpful. Please accept our condolences if you are visiting here because you have lost a loved one or are beginning to plan because someone is unwell.
Since March 2020, we have been using this home page to post updates on the current circumstances, to ensure that they are easy to find and up to date. You can access our online brochure below, which not only contains details of our services but also information about local crematoria and cemeteries. You can also find a guide to registering a death and other documents which may prove helpful to you. The remainder of our website may contain information which relates to pre-pandemic circumstances and is not currently relevant.
Contacting and visiting us
At the point that the country moved out of lockdown we reopened our offices to the public. However, we are trying to operate with an appointment system as much as possible to continue to be able to keep visitors separate, and also to ensure that we can plan our time to ensure that the proper person is available to deal with visitors when they arrive. If you wish to visit us at one of our funeral homes, please call ahead to arrange a suitable time.
Funeral numbers
Although legal restrictions have come to an end, some funeral venues continue to retain a limit on attendance which is below their normal capacity, whilst others have lifted all restrictions on numbers. As this is an ever-changing situation, please contact us to find out the number of attendees permitted at your chosen venue.
Face coverings
Although face covering are no longer legally required, most indoor funeral venues are continuing to ask people to wear them.
Unattended funerals
Even though restrictions are being lifted, we realise that some people's views of holding a public gathering have changed, or that, for some, circumstances still mean that holding a funeral service at present simply isn't practical or desirable.  We will always support those who chose to hold an unattended cremation, and would be happy to help families who chose this option in the future if they need help to arrange a memorial service or similar event.
Our Brochures
From 16th September 2021, all funeral directors have to provide two funerals, the Attended and Unattended Funerals, in a proscribed format within a document called the Standardised Price List. You can download our version of this document below. If these two funerals do not fit your needs, our Bespoke Funeral brochure is available which covers all other options.
Bespoke Funeral Brochure and Price List
Please click here if you wish to view our Disclosure of Interests document
Our Online Brochure
Our online brochure which details our funeral packages, vehicles, coffins, funeral flowers, urns and keepsake ranges is available by clicking on the image below.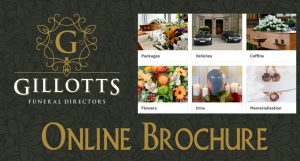 Registering a Death
The Registration of all Deaths is currently taking place by telephone. Please download our advice leaflet here. Please contact the hospital bereavement centre for deaths in hospital, or the deceased's GP surgery for deaths in the community.
If you have any questions or concerns, please do not hesitate to contact us.
Funeral flowers
Our floristry service is available to provide floral tributes for the funerals we are conducting or you may wish to contact your local florist to arrange flowers on your behalf. If so, we recommend that you telephone first, as they may be open by appointment only or with restricted hours. You can download our Funeral flowers brochure here, or view the options on our online brochure using the link above.
Order of Service Sheets
Order of Service sheets provide a touching memento for both the immediate family who are able to attend the funeral service, and for those who would have been there under normal circumstances. We have reduced our costs when only a small number are required. You can download our brochure here and our Order Form to submit your requirements here
Gillotts Funeral Directors have been arranging funerals for families across Nottinghamshire and Derbyshire for generations.
We serve a wide area from five funeral homes in Eastwood, Kimberley, Heanor, Stapleford and Selston.
People may be more familiar with our former names; Eastwood and District Funeral Service, Kimberley Funeral Service and Gillotts Funeral Service. In November 2015, we united our funeral homes under a single name; Gillotts Funeral Directors, to reflect our identity as a family business. The business continues to be owned and managed by The Eastwood Funeral Partnership; Barry and Elaine Hutsby, Joanne Hutsby and Anthony Topley.
We can be contacted 24 hours a day when someone dies and our highly experienced team of funeral directors and arrangers are on hand to help with every aspect of managing the practical arrangements.
When Someone Dies
Funeral Choices
Our Services
Funeral Planning
Funeral Announcements
About us
Contact us