Coronavirus Special Measures
Thank you for visiting our website. If you have had a bereavement, or are looking for information because a loved one is unwell, please accept our condolences at this really difficult time. Please be aware that some of the information on the other pages of our website is not currently accurate – all of the information relating to the current situation is on our home page here. However, please contact us at any time if you need any advice or information.
Our Funeral Homes
The three members of staff who work at our Heanor office are currently self-isolating because of contact they have had with someone who has tested positive for COVID-19. All three are fine and currently have no symptoms.
The funerals we are dealing with at our Heanor funeral home will continue as planned, and all of the families we are dealing with are aware of the situation. The premises have been deep cleaned.
Unfortunately this means that we are unable to staff the office full-time at present, and will be diverting staff from other offices when required. If you need our assistance, please telephone (01773) 713921 and a member of staff will assist you.
We will post update on our facebook page about the times of day when there is a member of staff available at the Heanor office, and when the Heanor office reopens full-time.
As a consequence, our Kimberley office opening times are also be affected. If you wish to visit this office, please telephone us and we will assist you.
Funerals at present.
Everyone here at Gillotts is committed to helping families who have lost someone during this difficult time to find a way to hold a simple, dignified and meaningful funeral in line with the current guidelines. As an independent business, we've been able to make a lot of changes in the last few months to ensure that we can be adaptable and flexible to the ever-changing situation whilst keeping our staff and client families safe.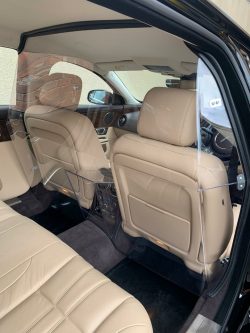 Although some lockdown measures are being lifted, gatherings are still restricted, with the actual numbers permitted depend on the venue. These currently range from 15 to a maximum of 30, depending on the size of the venue. Some Churches are open for funeral services with limited numbers of people, although many face challenges because many of their volunteer staff are elderly and unable to perform their usual roles, or assist with the increased cleaning requirements.
However – although funerals at present are much simpler and more intimate affairs than would be the case under normal circumstances, the close family are still finding comfort in being able to say goodbye, and friends and neighbours are finding other ways of showing they care, such as lining the streets as the hearse leaves for the funeral. Use of webcasts for crematorium services has also increased. Many families are planning to hold a celebration of their loved one's life when restrictions have been lifted – this might be a memorial service, a big party, a country walk to scatter ashes – whatever feels right.
We also realise that circumstances sometimes mean that holding a funeral service at present simply isn't possible for those who are unable to travel or who are vulnerable, so we're supporting those who chose to hold an unattended cremation.
We have now brought our Limousines back into use by fitting professionally designed Perspex screens which separate the driver from the passengers in the rear. We recommend that passengers in the limousines are either from the same household, or wear gloves and face coverings during the journeys to and from the funeral. See our Safe Use of Limousines document here for full details.
Contacting and visiting us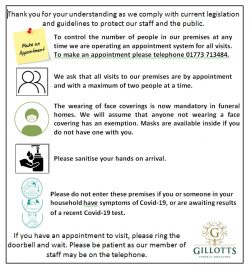 As social distancing requirements continue, our receptions continue to be open by appointment, with a maximum of 2 visitors at any time. If you need our help, please telephone whichever one of our funeral homes you would like to deal with, and we will assist you over the phone initially. We are happy to make all of the arrangements for a funeral or a funeral plan by phone and email if you wish, or we can meet by appointment at our premises with a maximum of two people attending. You can call us 24 hours a day and a member of staff will be able to assist you.
The wearing of face coverings is now mandatory for people visiting our premises, and masks are available for those who do not have one. We will assume that anyone not wearing a mask is exempt.
If you have an appointment to visit us, please ring the doorbell and wait for a member of staff. Please be patient, as our telephone lines are currently very busy, and the staff in the office may be taking a telephone call and be unable to answer the door immediately.
The following document explains the current measures with regard to issues such as face coverings, track and trace and social distancing.
Coronavirus Measures Document 7.8.20
Funeral Choices
We have updated our Brochure and Price List to reflect the current situation, and this can be downloaded below.
COVID-19 Special Circumstances Brochure and Price List
Registering a Death
The Registration of all Deaths is currently taking place by telephone. Please download our advice leaflet here. Please contact the hospital bereavement centre for deaths in hospital, or the deceased's GP surgery for deaths in the community.
If you have any questions or concerns, please do not hesitate to contact us.
Funeral flowers
Our floristry service is available to provide floral tributes for the funerals we are conducting. You can download our brochure here 
Order of Service Sheets
Order of Service sheets provide a touching memento for both the immediate family who are able to attend the funeral service, and for those who would have been there under normal circumstances. We have reduced our costs when only a small number are required. You can download our brochure here and our Order Form to submit your requirements here
Gillotts Funeral Directors have been arranging funerals for families across Nottinghamshire and Derbyshire for generations.
We serve a wide area from five funeral homes in Eastwood, Kimberley, Heanor, Stapleford and Selston.
People may be more familiar with our former names; Eastwood and District Funeral Service, Kimberley Funeral Service and Gillotts Funeral Service. In November 2015, we united our funeral homes under a single name; Gillotts Funeral Directors, to reflect our identity as a family business. The business continues to be owned and managed by The Eastwood Funeral Partnership; Barry and Elaine Hutsby, Joanne Hutsby and Anthony Topley.
We can be contacted 24 hours a day when someone dies and our highly experienced team of funeral directors and arrangers are on hand to help with every aspect of managing the practical arrangements.
When Someone Dies
Funeral Choices
Our Services
Funeral Planning
Funeral Announcements
About us
Contact us