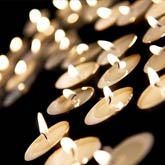 Grief is a part of loss, and the intensity of the pain of grief is a reflection of the feelings we had for the person who has died.
Everyone will react differently to losing a loved one, but in the early stages of bereavement, feelings of denial, anger and helplessness are common, along with physical symptoms such as loss of appetite, inability to sleep, and a difficulty in concentrating or taking in information. It is important to realise that these reactions vary hugely in different people, but are normal.
The funeral is a ritual which is designed both to honour the life of the person who has died and to help those who are left behind to readjust to their absence. Many people find that, difficult as the funeral itself may be, it also brings a sense of closure, and marks a point from which they can slowly begin to rebuild their lives.
Over time, and with help and support from friends and family, anger, guilt and despair change to acceptance, and a realisation that life, whilst changed forever, can be good again.
Bereavement Support
Sadly some people find it impossible to progress beyond these early stages, maybe because of the circumstances of the death, or the nature of the relationship with the deceased. For these people, talking to a counsellor, or joining a support group may help. Below please find links to some organisations who may be able to help.
CRUSE – bereavement counselling. www.cruse.org.uk
The Compassionate Friends – helpline and support groups for those who have lost a child – www.tcf.org.uk Helpline (10 – 4, 7-10): 0345 123 2304
SANDS – Stillbirth and Neonatal Death Society – www.uk-sands.org
Survivors of Bereavement by Suicide – www.uk-sobs.org.uk
Maggie's Centre, Nottingham – for those bereaved by Cancer – www.maggiescentres.org/our-centres/maggies-nottingham
Silverline – confidential helpline for older people affected by loneliness www.thesilverline.org.uk –
Support after Murder and Manslaughter – peer support group – www.samm.org.uk
Winston's wish – support for bereaved children – www.winstonswish.org.uk
Death at Home
Death in Care
Death in Hospital
Death of a Child
Dying abroad and Repatriation
Sudden or Unexpected Death
Registering a death