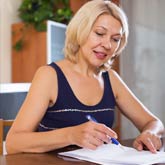 The costs of a funeral can vary considerably, depending on a wide range of factors, and it is impossible to give an average figure. The overall cost of a funeral is made up of a two elements – our charges for the services and items which we provide, and the fees and charges of the third parties involved, such as crematoria and cemeteries, churches and officiants, doctors and potentially a number of others such as newspapers, florists, stonemasons and providers of alternative funeral vehicles.
From 16th September 2021, all funeral directors have to offer two funerals, the Attended Funeral and the Unattended Funeral, in the same proscribed format, in a document called the Standardised Price List. Our version of this document is available on the homepage of our website. If these two funeral packages do not meet your needs, our Bespoke Brochure and Price List is also available and details all other options.
We are happy to give an estimate of the likely costs of a funeral, either in person or on the telephone, before a commitment has been made to entrust us with funeral arrangements. Please contact us if you would like to discuss funeral costs with a member of our team.
As part of a funeral arrangement meeting, we will provide an estimate of the costs of the funeral chosen, and discuss with you how these costs are to be met. We request part of these costs – in most cases only the third party fees – prior to the funeral, and send an account for the remainder of the costs after the funeral has taken place.
Help with funeral costs
We realise that, for some, meeting funeral costs can be difficult.  In certain circumstances, those arranging a funeral may be eligible for assistance from the DWP social fund.
To qualify, both you and anyone else who shares the same relationship with the deceased as you, must be receiving one of a number of benefits, including Income Support, Council Tax Benefit, Disability Working Allowance, Family Credit or Housing Benefit. Any money in the deceased's estate will be deducted from the amount you are awarded.
Any payment made will be only a contribution towards the overall cost of the funeral, and all costs over and above the payment made by DWP remain the responsibility of the person who has arranged the funeral, and will need to be paid in advance of the funeral. For more information on help with funeral costs, please read our leaflet which can be downloaded here.
If you would like to talk to someone about funeral payments, get in touch with your Department for Work and Pensions (DWP) or talk to someone at an advice centre such as Citizen's Advice Bureau. They will be able to advise you on the type and amount of financial help you can expect, based on your personal circumstances.
How to pay
When we arrange the funeral with you, we'll issue you with a full written estimate itemising our costs, and those of third parties that we'll be paying on your behalf, such as crematorium and newspaper fees. In most cases, we will request payment of these third party fees prior to the funeral. In certain circumstances, we request that the full amount be paid prior to the funeral. Our terms of business are listed in more detail in our Standardised Price List.
For all outstanding balances, we'll then issue a funeral account after the funeral and payment is due within 7 days by cash, cheque, debit or credit card or bank transfer.
Obtaining credit to pay for funeral costs
For those who do not have access to funds to pay for funeral costs FuneralSafe (www.funeralsafe.co.uk) will lend from £499 to £7,500 to pay for funeral costs. If you intend to apply for a loan to cover the funeral costs please let us know.
If paying for the funeral is a problem and you do not believe that you will be able to apply for credit to cover the funeral costs, please let us know at the time of making the arrangements and we'll discuss the various options available.
Arranging a Funeral
Visiting our Chapel of Rest
Funeral Coffins and Caskets
Funeral Cars
Memorial Funerals
Funeral Flowers and Donations
Arrangements for Cremated Remains