We can provide a wide variety of high-quality funeral memorials – from temporary memorials such as wooden crosses for graves to permanent memorials such as memorial plaques and headstone memorials.
Temporary Headstone & Memorials
We provide a range of temporary headstones and permanent headstones for graves and cremated remains, including memorial plaques and headstones for Cemeteries and Churchyards. We can provide a simple wooden cross with an engraved nameplate to mark a grave once an interment has taken place, and cremated remains plots can be marked with a small plastic memorial plaque with an engraved nameplate.
Permanent Headstone Memorials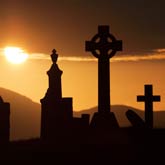 A wide variety of new memorials are available, from full kerb sets to headstone memorials, memorial plaques and vases.
We work with M.S. Bailey Stonemasons, based in Ilkeston, for the removal and subsequent renovation and addition of inscriptions to existing memorials.
New memorials are available in three main categories of material – Marble, Granite and Natural Stone. However, within these categories, especially Granite, there are several variations in texture and shade. Modern technology allows the Memorial Masons to incorporate a wide range of designs onto Granite memorials, and a template of your memorial is produced before you confirm your order.
Please visit Bailey's website here for more information about our choices of memorial plaques, headstone memorials, and permanent and temporary headstones.
Arranging a funeral
Visiting our Chapel of Rest
Coffins and caskets
Funeral cars
Arrangements for cremated remains
Funeral costs