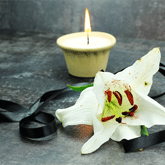 A funeral without religious content is no longer uncommon and may be a more fitting reflection of the deceased's life and beliefs.
The ceremony can take place at a crematorium or cemetery chapel, or in a secular venue such as a parish hall or hotel.
We have a range of officiants available who we can ask to perform a non-religious funeral ceremony. They will meet with the family to discuss the format of the ceremony, find out more about the deceased and wider family, and find out whether friends or family wish to contribute to the ceremony.
As an alternative, a family member or friend can officiate at the ceremony themselves if they feel they have the confidence and ability to do so.
Cremation
Burial
Religious funerals
Eco funerals
Bespoke and themed funerals
Wakes and Receptions