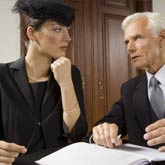 Registration of a death is something that the Funeral Director legally cannot do.
If the death occurred at home or in a care home, the Medical Certificate required to register the death will be available from the deceased's GP.
If the deceased was a Hospital in-patient at the time of death, this certificate will usually be available from the hospital, and you may be able to register the death at the hospital.  Ask your hospital's Bereavement Centre for further guidance on whether it's possible to register the death at the hospital.
The doctors who work at Community Hospitals such as Ilkeston or Ripley are often based at a local GP practice, so it may be a doctor from a surgery close to the hospital who will be responsible for completing the Medical Cause of Death certificate.
In most circumstances, a close family member will need to make an appointment to see the Registrar, at the Registry Office in the area where the death occurred.
Please download our registration leaflet for full details of who should register a death, how to contact the correct registrar's office, the documents you will need to take with you, and the documents you will receive when you have registered the death.
If the Coroner has conducted an investigation, registration of the death will be delayed until this investigation is complete. Depending on the circumstances this could be after the funeral – please contact us for advice if you are unsure.
Death at Home
Death in Care
Death in Hospital
Death of a Child
Dying abroad and Repatriation
Sudden or Unexpected Death
Help with bereavement