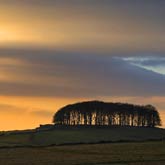 We understand the importance of honouring the memory of your loved ones while also minimising our impact on the environment. That's why we offer woodland burials and eco funerals as a sustainable alternative to traditional funeral services. Our woodland burial grounds provide a serene and natural setting for your loved one's final resting place, surrounded by trees and wildlife. We also offer a range of eco-friendly coffins and caskets made from sustainable materials. We aim to help you create a meaningful farewell that aligns with your values and respects the environment.
What is a woodland burial?
A woodland burial is a type of funeral that prioritises environmental sustainability and offers a natural and peaceful resting place for the deceased. Unlike traditional cemeteries, woodland burial sites are located in natural settings such as forests, meadows or fields. These woodland burial site locations are typically managed to preserve the local ecosystem with minimal environmental interference.
One unique aspect of woodland burials is the option to personalise the final resting place. Families can choose to plant a tree, place a memorial bench or install a plaque to commemorate their loved one. Many people find this to be a comforting and meaningful way to honour their loved one's memory while also contributing to the preservation of nature.
As more people become aware of the impact of traditional burial practices on the environment, woodland burials and eco friendly funerals are becoming increasingly popular in many regions. Based in Nottingham, providing eco funerals and woodland burials across Nottinghamshire and Derbyshire in the UK. Several woodland burial sites are available for those looking for an alternative to the traditional cemetery.
Wicker Coffins & Eco-Friendly Coffins
We offer a range of eco-friendly and sustainable coffins that are both respectful to your loved one's memory and the environment. Our selection of wicker coffins & environmentally friendly coffins are available as part of our range – materials used include bamboo, pine and wool. These can be used for either a woodland burial, cremation or burial in a traditional cemetery or churchyard.
For more information about our woodland burials and eco-friendly coffins, including our wicker coffin, available for eco funerals across Nottinghamshire and Derbyshire, please get in touch.
Cremation
Burial
Religious funerals
Non-religious funerals
Bespoke and themed funerals
Wakes and Receptions