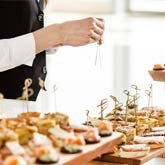 It is traditional following a funeral to do a wake or reception and provide refreshments for those who have attended and to have an opportunity to share stories and continue celebrating the deceased's life.
If space permits, this can take place at the family home, or alternatively at a venue such as a pub, club, church or parish hall, restaurant or hotel.
The choice of venue for your wake or reception can vary and is often somewhere that the family are familiar with. However, if you would like any suggestions for suitable funeral reception venues, please ask your Funeral Arranger.
For those who are holding a wake or reception at home or in a venue without catering facilities, we can recommend caterers who can provide the food, hot drinks and service. Please ask for more details.
For more information about our funeral services, click below:
Cremation Services
Burial Ceremonies
Religious Funeral Services
Non-religious Funerals
Eco Funerals
Bespoke Funerals