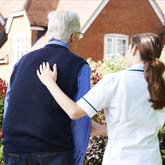 If the death has occurred in a Care Home, the staff will contact us to arrange for the deceased to be transferred into our care, once a doctor or attending Medical Professional has given permission for the deceased to be transferred into the care of a Funeral Director.
We will liaise with the Care Home staff on your behalf and make the necessary arrangements for your loved one to be transferred into our care.
Many Care Homes already keep notes on file about residents and their families' wishes, for use in the event that a resident dies. Notes that a Care Home might keep include details of which family member to contact, in the event of your loved one dying, or whether the family wish to be informed if they were to die in the middle of the night. They should also find out which funeral home you would like them to contact; if you have a relative in a care home, it may be helpful to ensure that they know which funeral home they should contact at the appropriate time.
Death at Home
Death in Hospital
Death of a Child
Dying abroad and Repatriation
Sudden or Unexpected Death
Registering a death
Help with bereavement