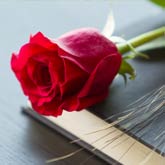 All of our funeral homes have private Chapels of Rest, where family and friends can come and see their loved one before the funeral.
As part of the meeting to arrange the funeral, we will ask whether the deceased is to be placed in the Chapel of Rest for viewing. Our Chapels are designed to be quiet and dignified.
The greatest care is taken to ensure that the deceased looks peaceful and at rest when you see them. Your Funeral Arranger will discuss with you how you would like the deceased to be dressed. Often the finer details such as hair and make-up make a big difference to how familiar someone looks in the Chapel of Rest, and we will try and follow your instructions as closely as possible.
Your Funeral Arranger will discuss viewing times with you. Once the deceased is in the Chapel of Rest, visits can be made during office hours without an appointment, or an appointment can be made to visit outside of office hours. Viewing can be restricted to certain individuals if necessary.
If you wish, and if practicalities permit, we can bring the deceased home on the day before or the morning of the funeral. If you would like us to do this, please inform your Funeral Arranger.
Arranging a funeral
Coffins and caskets
Funeral cars
Memorials
Arrangements for cremated remains
Funeral costs