After a cremation service, there are a number of options for cremated remains.
If you do not wish the ashes to stay at the crematorium, we can collect them. Sometimes, it is difficult to make a decision straight away, so we are happy to keep the remains at our premises until a decision has been made.
Following a cremation, the ashes can be scattered in the crematorium grounds. This can be requested as an appointment. Some crematoria also offer other options, such as arranging a plot for the remains to be scattered.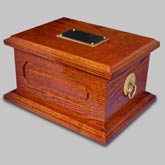 For those who would like to have somewhere to visit their loved one, a plaque can be used on either a cremated remains plot, churchyard or an existing grave.
Cremation Urns & Caskets for funerals across Nottingham & surrounding areas
Wooden cremation caskets are the traditional choice when cremated ashes are to be buried in a cemetery or churchyard plot, although they can also be retained at home. Our range includes personalised options incorporating custom engraving, designs or photographs. If you would prefer to scatter the remains yourself, we can return the remains to you in our nature urns.
You can also choose from a selection of cremation urns. Urns come in various materials and designs, allowing families to choose one that resonates with their loved one's personality or preferences. We have traditional and understated options as well as more elaborate designs with engravings or decorative elements.
Retaining some or all of a loved one's cremation ashes can give a reassuring physical presence and can bring comfort during the journey of grief. Collecting a loved one's treasured possessions – such as jewellery, letters, photographs and maybe a lock of hair, and keeping these together in a special place can also help to keep them close at heart.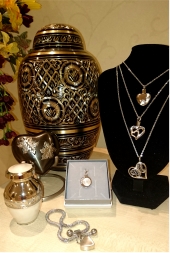 We offer a wide range of cremation urns, caskets & jewellery for funerals in Nottingham, Derby and the surrounding areas. Below are the options we provide.
Cremation Rings
Urn Necklaces in gold/silver
Cremation Ashes Pendants
A Wide Range of Cremation Urns
Keepsakes Containers
Fingerprint & Engraved Jewellery
Cremation Teddy Bears
Options can be found in our current brochure and also our Cremation Urns and Jewellery Brochure.
Arranging a funeral
Visiting our Chapel of Rest
Coffins and caskets
Funeral cars
Memorials
Funeral Flowers and Donations
Funeral costs