Staff from Gillotts Funeral Directors learned about how we will be helping to make a difference in the community when we handed over the proceeds from our charity appeal to a local food bank.
Funeral directors Anthony Topley and Helen Ellis, from our Heanor office, made the discovery when visited Salcare in Ray Street, just a short walk away from where they are based in Abbott Street.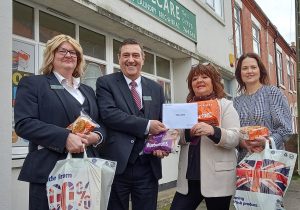 Gillotts has donated £500 to Salcare this year after raising the money through our annual remembrance appeal, which took place in December and involved families popping into its office to leave messages to their departed loved ones on the branches of a Christmas tree.
We put aside £1 for every label that was left, while visitors also made their own donations, as well as leaving bags of groceries for the food bank.
Salcare has run its food bank for a number of years and currently gives out free bags of groceries to around 50 people and families each week.
Anthony said: "We all see Salcare's premises every time we turn up for work but finding out what they do has been a real eye-opener and we're very proud to have been able to help them through our Christmas appeal.
"We work with families right across the community and we know from them how hard the pandemic and life in general has been for many of them. What was really nice was the way in which so many of our visitors left food and household items as well as making a donation and leaving a tag.
"It's at times like that you realise what a close-knit community Heanor is."
Lizzie Nugent, deputy director of Salcare, said that many of those who use its food bank also go onto to access its other services, which include a furniture shop, workshops for domestic violence victims and perpetrators and art therapy classes for children.
She said: "Salcare is a much-needed community hub which provides a whole host of vital services for Heanor, of which our busy food bank is just one.
"Donations and funding are hard to come by these days so we're extremely grateful to Gillotts for donating this money, which will enable us to pay for the essential food items that families need."
Gillotts operates five branches, in Heanor, Eastwood, Selston, Kimberley and Stapleford, and we have made donations to four local food banks this year following last year's Christmas appeal, which raised £2,000 in total.