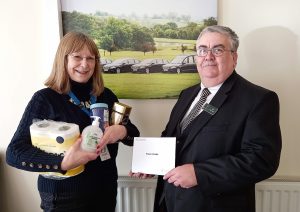 Volunteers running a Stapleford food bank have been given a boost in their efforts to help local families after a local funeral firm donated money allowing them to buy much-needed supplies. 
The Haven Centre Food Bank, based in Wadsworth Road, has been given £500 towards its funds by Gillotts Funeral Directors, in Derby Road, after the firm raised the money through its annual remembrance appeal last year. 
Taking place throughout December, the appeal saw families popping into its office to leave messages to their departed loved ones on the branches of a Christmas tree. 
Gillotts put aside £1 for every label that was left, while visitors also made their own donations, as well as leaving bags of groceries for the food bank as well. 
The Haven Centre has run its food bank for a number of years and helped nearly 1,000 families last year alone. 
Alan said: "We work with families right across the community and we know from them how hard the pandemic and life in general has been for many.  
"It's always rewarding to be able to hold our remembrance appeal every year and it's wonderful to be able to give the proceeds to such a worthy cause." 
Liz Stead, who manages the Haven Centre Food Bank, said: "We're extremely grateful to Gillotts for donating this money, which will enable us to pay for the essential food items that families need. 
"The food bank came under demand during lockdown and it's very much needed by so many families who could not cope without it." 
Gillotts operates five branches, in Heanor, Eastwood, Selston, Kimberley and Stapleford, and they have all made donations to their local food banks this year following last year's Christmas appeal, which raised £2,000 in total.