For the second year in a row staff from Gillotts Funeral Directors have made the short trip across the road from our headquarters to make a donation to help local families put food on their table.
This time, it was funeral director Joanne Hutsby and funeral arranger Jodie Wardle who crossed Nottingham Road outside our Eastwood offices in order to visit Eastwood Food Bank, which supports hard-pressed households in the town as well as neighbouring Kimberley.
Joanne and Jodie handed over £500 to the food bank, which was part of the £2,000 we raised across the Gillotts Funeral Directors group through our Christmas remembrance appeal last year, when we invited families to visit our offices and leave a messages to their departed loved ones on the branches of its Christmas trees.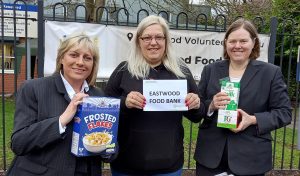 We put aside £1 for every label that was left, while visitors also donated money and left bags of groceries for the food bank as well.
Eastwood Food Bank has been running for a number of years and currently gives out free bags of groceries to dozens of people and families living in Eastwood and Kimberley each week.
Joanne said: "We supported Eastwood Food Bank through our remembrance appeal last year and although it's a sad sign of the times we live in, we're happy to help them for another year.
"During a previous visit we all saw how hard the volunteers work and the vast quantities of food they distribute each year. Nearly one year later their hard work is needed more than ever so hopefully this donation will go a long way to help more families over the next few weeks."
Susan Bagshaw, manager of Eastwood Food Bank, said: "We're very grateful to Gillotts for supporting us once again.
"We are as busy as ever helping local families to get by and this money will help us to pay for the essential food items that families need."