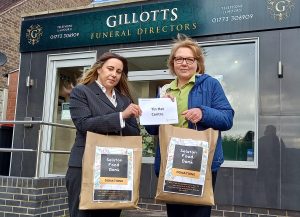 Volunteers at a Nottinghamshire food bank are bracing themselves for an increase in families requiring their services due to rising living costs and fuel bills.
Selston Food Bank, which is operated by the Tin Hat Centre in Chapel Road, Selston, has become a necessary lifeline for a growing number of local households who are struggling to make ends meet and need help putting meals on the table.
It currently hands out food parcels to 13 families each week but Paulette Sturman, the manager of the Tin Hat Centre, says that this number is likely to grow as the increase in the cost of living hits local family's budgets.
This week the food bank picked up a £500 cheque from local funeral firm Gillotts Funeral Directors, which raised the money through its annual remembrance Christmas tree appeal, which took place in December.
It is the first time that the company, which has also donated money to three other food banks this year, has worked with the Tin Hat Centre, which took over the running of the Selston Food Bank last October.
Paulette said that the money will pay towards supplementing the food donations that the centre receives by paying for items that aren't usually left but which are necessary for creating healthy meals.
She said: "The normal donations we get are the staple items, but we'll use Gillotts' money to pay for meat or tins of tuna so that they make complete meals for families.
"It's fantastic to receive this donation because our food bank is busy and it's going to get busier over the next few months. We only respond to referrals but still we're noticing how we're getting bigger families coming to us now.
"That's a sign that things are getting tough for people. We had a lot of people who came because they lost their jobs through COVID, now we're getting working people who just can't afford to pay for everything their families need."
Anthony Topley, a partner in Gillotts Funeral Directors, which operates an office in Nottingham Road, Selston, said: "It's very clear how Selston Food Bank is a vital resource for local families and so we're very pleased to have been able to help out this year.
"We work with families right across the community and we know from them how hard the pandemic and life in general has been for many of them. What was really nice was the way in which so many of our visitors who came to leave a message for a loved one as part of our remembrance appeal also left a donation and even some food as well."