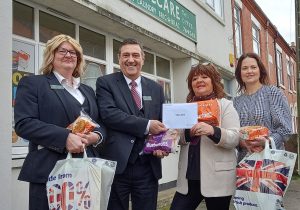 We saw a huge increase in online donations to charity during the lockdown and so it was no surprise that last year we handled more money on behalf of good causes than ever before.
According to our figures, families, friends and well-wishers proved to be particularly generous during 2021, with more than £100,000 being handed over to a wide range of charities and good causes across all five of our branches.
We pride ourselves at being there to ensure that every single penny of money that is donated before, during or after a funeral goes straight to whatever organisation our families or their loved one decided deserves their help.
This is no small undertaking. We collect money in envelopes at the funerals themselves as well as handle the administration in relation to donations made via the online memory pages, making sure that everything is transparent and fair all round.
Then we send out letters to the charity to let them know of whatever money has come their way and also write to relatives to let them know how much was raised in memory of their loved one and tell them who donated what.
There has been an increase in charity donations in recent years and this task is handled by our office administrator Carol, who also keeps a tally of which charities receive donations throughout the year.
It's fair to say that her list provides a wonderful snapshot of the good causes that are dear to our families' hearts and every pound that is donated tells a story – of charities that their loved ones' supported throughout their lives, the hobbies and activities they enjoyed and, sadly, the organisations who helped them during their final days.
The charities which were left the most amount of money last year were those relating to a specific disease or condition, such as The British Heart Foundation, while smaller charities are not forgotten, including local animal rescue charities such as Babington Rescue and Guardian Angel Bird Sanctuary in Eastwood.
Carol said: "There are some charities who we see a lot, others are one-offs, and we handle a wide range of different amounts, but it's my job to make sure that everything that is donated gets to them.
"You can tell a lot from the donations. If someone has been nursed in their final days by an organisation then their families often want to give a donation to the staff to say thank you, or they want a donation for a cancer charity if that's what they died from.
"We like to tell relatives the names of people who have made a donation by leaving money in an envelope, or if they've left a name and a message on a memory giving page. It helps families to know things like that."