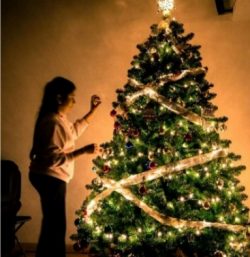 For the last 15 years, we have invited families into our premises during December to place a message on our Memorial Trees in memory of their loved ones. It's so sad that we can't do this this year. Instead, we've sponsored an outdoor tree in the grounds of St Lawrence Church, Heanor, and we are inviting families to visit the tree themselves, where special waterproof message labels will be there for them to write and place on the tree. Alternatively, if you're not able to go to the tree yourself, you can send us your message using the form below and we will place your message on the tree for you.
In the New Year, we will donate £500 each to four food banks which serve the towns we serve, enabling them to continue to support struggling families in the New Year. If you'd like to make your own donation to any of the food banks you can do so using this link.
We are also unable to have our usual Christmas Memorial Service this year, so we will be creating a virtual Ceremony of Remembrance, which can be viewed on our facebook pages throughout December.