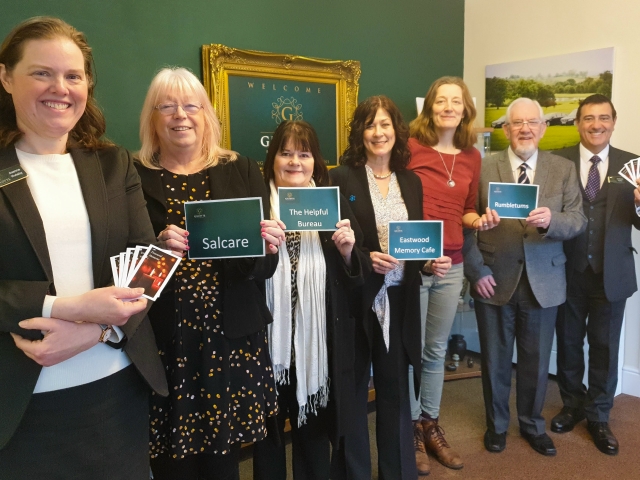 A project to help victims of domestic violence and a community café were among five good causes to be given a boost when Gillotts Funeral Directors handed out the proceeds of our annual fundraiser, donating an equal share of £2,500 to each of five different local charities after raising the money through our Christmas appeal in December 2019.
We have donated £1 for each message of remembrance on the five Christmas trees which we erected in the reception of our funeral homes throughout December, and was supplemented by donations from those placing the messages.
Joanne Hutsby, a partner in Gillotts, said: "Our Christmas fundraiser was very successful once again, but there was extra interest this year once visitors heard we'd chosen to help five extremely worthy local causes.
"We understand how important their work is but how challenging it is for them to raise the funds they need, which is why we're extremely happy to have raised such a large amount of money and be able to pass it on for them to put to good use."
The charities are The Memory Café, which supports patients with dementia and their carers in Eastwood; Rumbletums, a community café and supported training project for young people with a learning disability in Kimberley; The Helpful Bureau, which provides assisted living services to old people in Stapleford; Selston Sunshiners, an over-50s social group in Selston and Salcare, a one-stop-shop which provides a range of support services for vulnerable people and families in Heanor.
Joanne Hutsby, a partner in Gillotts, said: "Our Christmas fundraiser was very successful once again, but there was extra interest this year once visitors heard we'd chosen to help five extremely worthy local causes.
"We understand how important their work is but how challenging it is for them to raise the funds they need, which is why we're extremely happy to have raised such a large amount of money and be able to pass it on for them to put to good use."
Derek Gardiner, chairman of Rumbletums, which is based in Victoria Street, Kimberley, said that its £500 share has already been allocated to its building fund and will help it to expand the café's kitchen. He said: "We give young people with Special Educational Needs the opportunity to learn new skills and develop their self-confidence by working in our café, but our current kitchen is very small and limits the scope of work that we can do.
"We're really grateful to Gillotts for their donation, which will help us to extend it so that we can add more services for our young people and also increase our offering to our customers."