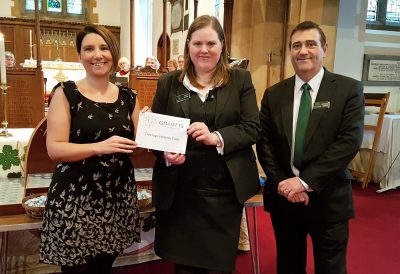 Joanne and Anthony presented the proceeds of our Christmas Appeal to Tina from Treetops Hospice Care at our rescheduled Memorial Service at St Mary's Church, Greasley. The Service was due to take place in December, but had to be cancelled due to heavy snow. Over 200 people attended the event in January.
During the service, families were invited to the front of the church to light a candle and staff also used flowers brought by each family to make four floral arrangements. Once the service was over, our staff also released four white doves as a further act of remembrance.
The money was raised by donating £1 for every message of remembrance left on the branches of five Christmas trees placed in our funeral homes, and also from donations kindly made by those who visited to place messages on our Remembrance Trees.
Our next Memorial Service will be held in December 2018 – please check our website and facebook pages for the date.